Join the Iron Order Motorcycle Club for a scenic ride in loving memory of Kellianne
Please join us on June 24th as we remember and honor the life of Kellianne Burke. All event proceeds support The Arc. Event features:
Scenic motorcycle ride
Live music by Leslie Gage and Friend's
50/50 raffle and raffle prizes
Food and lots of fun
---
Kellianne Burke
On 10/26/21, Kellianne tragically and unexpectedly passed away at her group home in Randolph. Kellianne was born with Down Syndrome and had health issues throughout her life. She defied the odds by living to the age of 33. Kellianne loved lively music and movies and always lived life to the fullest. She also benefitted greatly from the services that she received from The Arc.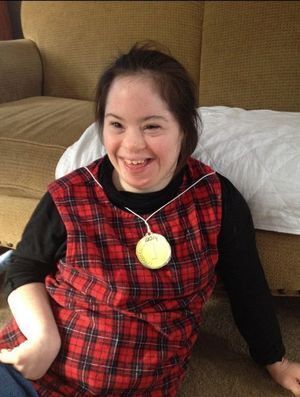 ---
Event Details
Date: Saturday, June 24, 2023
Time: Registration begins at 10am ~ KSU 12pm ~ Return to Freetown VFW for food and fun
Location: East Freetown VFW 
89 Middleboro Road
East Freetown, MA 02717 
Cost: Tickets are $20/each
T-Shirts: Shirts will be sold at the event
---
Event Sponsors
Ride sponsorship opportunities are available until May 29th. There are two levels:
Banner Sponsor: $350
Name/logo on event banner
Name/logo on event t-shirt 
T-Shirt Sponsor: $250
Name/logo on event t-shirt
For more information, please contact Brenda Linden, Chief Strategy and Engagement Officer. 
You!
---
2022 Event
Thank you to everyone who attended and generously supported our 1st Annual Ride in 2022. Together, we raised over $14,300 to support our mission to empower people with disabilities to reach their fullest potential. We hope you will join us this year!
In 72 Years we have...
Local and National Partnerships