The Arc of the South Shore is the Heart of the South Shore
Since 1951, we have helped more than 100,000 individuals with intellectual and developmental disabilities, including Autism, live their best lives and achieve high-quality outcomes. Our mission is to empower families and individuals of all ages with disabilities to reach their fullest potential. With the support of our partners, we ensure that people with disabilities live healthy, safe, independent, and empowered lives. Join us today.
News & Events
Press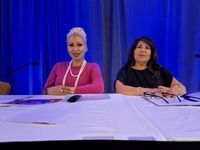 Abigail Parrilla, CEO of The Arc of the South Shore, was a guest speaker at The Summer Leadership Institute held July 24-26 in Las Vegas, Nevada.