Meet Paula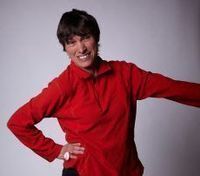 Sunday through Friday Paula resides at the group home in Rockland, MA. But on the weekends, she joins her sister Sandi and her family enjoying gardening, outdoor projects and her nieces' soccer games. Paula has been utilizing various programs of The Arc of the South Shore since she was 18.
Paula has many skills and abilities, but unfortunately is non-verbal. She uses sign language and her Ipad to communicate, and loves to be busy. "Paula loves the balance of doing workshops," Sandi said. "But her favorite thing to do is gardening." Before joining the group home back in 2008, Paula had always lived with her mother. But when she passed away, Sandi knew she could turn to The Arc to help find a perfect place for her sister. "I met with the staff about a group home they had in Rockland," Sandi said. "Paula had never been far from her family so I was worried to see how it would go." But after just two weeks, Paula loved it and felt right at home. "It's almost like the group home was sent from heaven," Sandi said.
According to Laurie, a Program Manager at The Arc, "Paula is just amazing. She'll do anything for anyone and is a wonderful friend, worker, and all around person. She loves to work and be busy and goes out of her way to help other people on a daily basis. She works off-site 2 days a week at Fallon Ambulance Services and Tedeschi Food Shops doing light maintenance work. She also volunteers at the South Shore Science Center, the Gardening Program, SeaChest consignment, and Holly Hill Farm. She's a hard worker, responsible, a great team player and often times acts like an extra staff reminding us of things, finding missing items, pointing out supplies that we are running low on." Paula has been praised by not only the Arc, but by her housemates. Paula has received many awards from the Arc at their annual dinner for being so helpful in the community. Sandi has only amazing things to say about her sister. "She is the easiest person to have around," she said. "She never complains and loves social environments."
When Paula travels to stay with her sister and her family on the weekends she gets to spend time with her nieces and time outside. "Paula and my husband have done so many projects outside," Sandi said. The group home has been such a bright spot for Paula that sometimes she's ready to go back early. "We laugh because sometimes our house gets too busy and she's ready to leave!"
The Arc has been a great communication vehicle for Sandi to have, especially since her mother passed away. "I have three girls of my own, so my time is always busy," Sandi said. "I love having the Arc there for support and I know how happy it has made Paula."
In 72 Years we have...
Local and National Partnerships