Meet Emily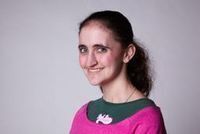 Emily loves spending time with her family and loves Boston sports. Always with a big smile on her face, she enjoys every part of life. Emily is part of the Arc's Day Habilitation program, and brightens up everyone's day. She takes part in everything she can and is happy to do it.
Emily loves being with her family. She has two siblings and a great group of friends. With such a close family, everyone loves being around Emily, because she puts a smile on their faces. Every year family and friends team up for an MS walk, often in Cohasset, with their own team "Emily's Walk". So many friends and family come out for this great event to help support Emily. The 6-mile walk benefits the National Multiple Sclerosis Society. Emily has friends from Weymouth High School who still walk even though they have graduated. They still fight for her! Each year, the Emily's Walk team wears T-shirts, and Emily waits at the finish line to cheer her team on. Before her MS attack, Emily played youth soccer and basketball and loved ice skating and swimming. Everyone who walks for her recognizes how much she enjoys being out there, and she is the best cheerleader for her team.
Whether it's the Boston Red Sox, Bruins or the New England Patriots, Emily is cheering on her favorite teams. She has been lucky enough to go cheer on these teams at their home venues and gets so much excitement being there live. The entire family are Boston sports fans and it's always a great time to get together and watch the games, with Emily cheering the loudest. Her mom, Laurie who is also a big Boston fan, especially of the New England Patriots, loves watching games with her girl.
The Arc of the South Shore's Day Habilitation program has really benefited Emily throughout the years. MS is a very isolating disease and is very unusual for children to get, especially as severe as Emily. Some people with MS are able to drive and live on their own, but for Emily she will always live at home and need care. The Day Habilitation program has given her a place to go and enjoy activities with friends and receive help with her MS symptoms. Emily has constant fatigue, difficulty with balance and problems finding words in speech. According to Laurie, "The Arc is so supportive in helping her to find ways to adjust and grow. They have been such an amazing support for Emily and our entire family." Emily is such a bright spot in everyone she meets and her family hopes to see her continue to succeed.