Meet Sharon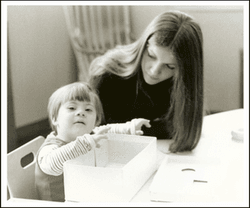 Sharon DuBois, a Skills Trainer in the Personal Care Management (PCM) program, is one of the agency's longest standing employees. She started working at The Arc's former respite program in 1977 when she graduated high school. "I grew up right next door to The Arc's First Early Intervention program for kids, and my mother worked there for years. As a teen I would volunteer with her. I joined The Arc right out of high school and am proud to have been involved with the agency for so long."
Throughout her tenure, Sharon has held many roles. In addition to overseeing the agency's respite care program, she also previously provided case management for clients and today works as a skills trainer. She sees the impact of her work every day: "I used to help people with day-to-day tasks, whether it was helping them with their bank accounts or getting services. Today, my role is less hands-on, but the impact is greater. I now serve hundreds of families, and the program provides them with the care they need to stay in their homes."
"PCM is a self-directed program, and I provide help and resources to support clients in taking control of the services they get—and their lives." The program allows individuals with a disability to live in their own homes with needed support by a personal care attendant who helps with activities of daily living. "I have five children and a strong sense of family, and I enjoy helping people. My role is flexible and always allowed for a good work/family life balance while still letting me support other families in getting the services they need." Whether it is an issue with billing, hiring a new care attendant, or providing information for the program's nurses, Sharon is there to help.
Throughout the years, Sharon has viewed her role at The Arc as a family affair. "Years ago when I was doing case management, I had a consumer who moved from Quincy to Braintree. She couldn't afford movers, and so my four youngest children helped move her belongings into and out of the moving truck. Being involved like that taught my kids compassion, flexibility, and they've learned to help others, and that's so important. The governor at the time even sent them a letter of recognition for their services, and I was so proud of that."
For Sharon, The Arc is like a second family. "I've built a lot of friendships over the years, and I really like what I do. The agency has supported me so much throughout the years, and it's a very comfortable environment here. My manager is incredible and always goes above and beyond. Everyone here has been so supportive and helpful that it just feels like home. We're really just like a family."
In 72 Years we have...
Local and National Partnerships