Meet Holly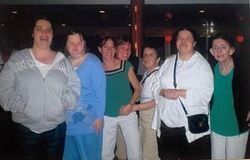 Twenty-three years ago when Holly was out shopping, she bumped into one of the residents in an Arc group home. The resident was out with her case manager, and they engaged in conversation. Holly was struck by the resident's cheerful personality and joy for life. "I've always been motivated by the residents. I love their outlook on life. No matter what happens, they're always happy and smiling. They're positive and upbeat; it's how we all should be. Being with them is the best part of my job."
Holly started at The Arc as a Residential Counselor and today is the Manager of two of the agency's group homes that house a total of nine residents. She has developed lifelong relationships with them and prides herself on being an engaged, hands-on manager. She regularly brings residents out into the community, into The Arc's offices, and has even taken them on trips. Even during this interview, Holly remained engaged with a resident, Kathy, who shared her recent trip to New Hampshire where she saw fireworks and went on a boat ride. For Holly, sharing in her residents' joy is her number one priority.
"I love the fact that The Arc treats residents like anyone else. The agency lets me help my residents to be as independent as possible and out in the community where they thrive. We give them the resources and supports to empower them to see and engage with the world." One of Holly's fondest memories are two cruises that she has taken with residents to Bermuda- trips that she describes as "an absolute blast." Together with additional support staff, Holly took residents to shows, played bingo, took the ferry to various parts of the island, and spent quality one-on-one time with each of them.
When asked about her greatest accomplishment at The Arc, Holly quickly replied that "the residents' accomplishments are my proudest moments. Whether a resident needs support getting back to work, modifications in their home to improve their independence, or help going shopping—I'm there to support them. Helping them to live full lives is something I'm proud of."
Holly credits The Arc for its personalized services and focus on families and individuals first for the residential program's success. "Where would my residents be without The Arc? They need these supportive homes to thrive in the community. When I walk into the office with one of my residents, everyone knows who they are and what their story is. They engage with the residents. The agency has a very personable feel. It feels like home, and I think that's why we have a low turnover rate. More than half of my staff have been here for more than a decade, and we couldn't imagine working anywhere else."
In 72 Years we have...
Local and National Partnerships