Meet Anne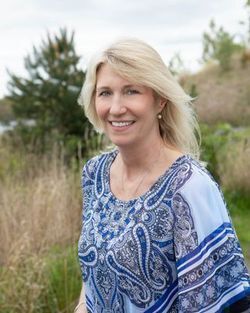 For Anne Holton, Director of Day Services, The Arc's family-focused culture started at its founding in 1951. "The agency was founded by parents who didn't have many options for their children with disabilities. They didn't want to put them in an institution or keep them home without any education or socialization. We were started by families and now we're family led. The Arc isn't a corporation- it's a home, a family. It's about the connections and caring. We're a strong advocacy agency and never want to stick with the status quo. We're always looking for our individuals to have as many opportunities in the world as our own children would have."
Anne was hired in 1990 as a case manager working with adults in a supervised work setting. She eventually became the program manager and today oversees the agency's day programs that serve 80 adults within the Day Habilitation, Community-Based Day Service, and Employment Service divisions. In addition to overseeing a staff of 30, she is the agency's Human Rights Coordinator and a member of the Positive Behavioral Supports Leadership Team, Safety Committee, and Employee Fun Committee. She also serves on several external boards and state commissions. She says that her commitment to The Arc's individuals is renewed every day. "I'm inspired by the individuals we serve. I've formed close bonds with them and their families over the years. Each day I work to make our day programs better and advance our mission. So many of our individuals have been in our programs forever—they come and want to stay which is a testament to the great work being done. Some of the adults we work with started in our Early Intervention program as children. We build connections that last a lifetime."
Some of Anne's greatest accomplishments include her programs' consistent state accreditations and high certification ratings as well as her team's response during the COVID-19 pandemic. "I have an incredible group of staff who are hardworking but who also know how to have fun. They transitioned on a dime to doing Zoom (remote) learning and providing care through telehealth. They never stopped pushing to provide daily care to our individuals. They even worked together to make home visits to cheer-up families and celebrate individuals' birthdays. They made posters and brought balloons. They will do anything to serve our individuals. As a group, we foster creativity and are committed to making the program the best it can be." She was also an integral part of the team that oversaw the complete renovation of the day facilities in North Weymouth which expanded program space by 3,000 sq. ft.
At the end of the day, Anne judges her happiness based on her interactions with The Arc's individuals. "My happiness here is fostering interactions with the individuals, seeing them grow and having fun with them. Our staff give of themselves- their talents and their personality. We treat people with dignity and respect. My hope is for children and adults with disabilities to have enriching life experiences and gain new skills. We support them and their families to become happy, productive people leading meaningful lives.
In 72 Years we have...
Local and National Partnerships