The Arc of the South Shore is the Heart of the South Shore. Join our team today!
We're hiring! A job where you make a lasting difference in someone else's life isn't a job at all, it's a purpose. If you're passionate about helping others, apply today to empower people with disabilities and their families. By joining our team, you'll become part of a diverse and committed workforce that provides help, hope, and opportunity to the disability community.
Unless otherwise stated, all part-time positions (20-29 hours) have a sign-on bonus of $1,750 and full-time positions (30-40 hours) are $3,500. Bonuses are paid in two increments. 
More Info:
For more information about The Arc's generous benefits, time off, and more, please download our new Career Brochure.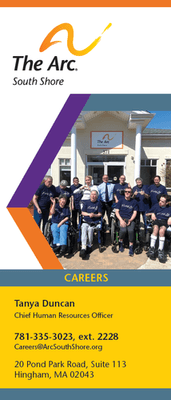 ---
Administrative
Since 1951, we have helped more than 100,000 individuals with intellectual and developmental disabilities, including Autism, live their best lives and achieve high-quality outcomes. Our mission is to empower families and individuals of all ages with disabilities to reach their fullest potential. We are currently hiring for:
No open positions available
---
Adult Day Services Programs
Our Adult Day Services Programs improve the quality of life, functioning, and independence for adults. Services include skill development in the areas of communication, employment readiness, self-care, socialization, relationship building, healthy living, self-advocation, and community involvement. We are currently hiring for:
Community-Based Day Services/ Employment Program Manager: Full-time
Direct Support Staff: Both full and part-time positions are available
---
Adult Foster Care Program
Our Adult Foster Care (AFC) Program allows individuals who are unable to live alone due to chronic illness, physical and/or mental disabilities, or advanced age to stay in their home or the home of a qualified caregiver in order to maximize their life. We are currently hiring for:
Adult Foster Care Coordinator: Full-time
---
Early Intervention Program
Our Early Intervention Program provides evaluations, education, referrals, supports, and therapeutic care for children from birth to age three who have developmental concerns. We are currently hiring for:
Developmental Specialist: Full-time position 
Physical Therapist: Fee-based (eligible for a $1,750 sign-on bonus) and Full-time positions available
Licensed Social Worker (LCSW) or Licensed Mental Health Counselor (LMHC): Full-time 
Speech Language Pathologist: Full-time and Per Diem positions
---
Personal Care Management Program
Our Personal Care Management (PCM) Services enable individuals with a permanent or chronic disability to live in their own residence or community with needed support by a Personal Care Attendant. We are currently hiring for:
Skills Trainer: Full-time
Registered Nurse (RN) Evaluator: Fee-based, eligible for a $1,750 sign-on bonus
Occupational Therapist (OT) Evaluator: Fee-based, eligible for a $1,750 sign-on bonus
---
Residential Supports Program
Our Residential Supports Program offers a range of housing options, including group homes, for adults. We provide support around activities of daily living, health and money management, advocacy, and community involvement. We are currently hiring for:
Residential Counselor: Full-time, part-time, and relief shifts are available at our homes across the South Shore
---